A new website seems to have recently appeared for FuelFactory Aps.  First thing to observe about this site is that it illegally fails to display the CVR Number of the business.  I hope they fix that soon, because the website has no specific names behind it, not least that of the registered owner of FuelFactory – Vita Holman Storborg.
Luckily, Linkedin has some useful information on who might be operating the day to day activities of the business.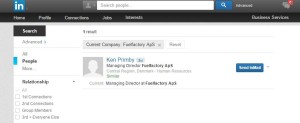 But wait, who is that?  Ken Lynge Primby?  Back in business as an IT Consultant and even identifying himself as managing director of an IT company called FuelFactory Aps in Tvangsopløsning?  Again…?